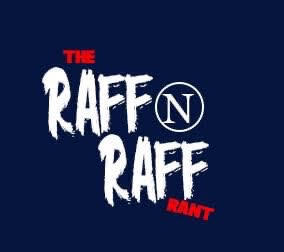 WE HAVE RETURNED!!!
Raff N Raff are BACK on the airwaves, and we bring it BIG!  In this 2 HOUR SPECIAL, Raffa and The Biz bring in former teacher and current principal Gaetano Sollazzo to grade the players, coach and team's overall performance in the 21/22 season thus far.  The final grade is given by "il principale" himself, but Raff's weigh in, as well as comment on the chat's weigh in as well. We also can't avoid (as much as we tried) the HUGE news of captain Lorenzo Insigne's life changing decision to sign for Toronto FC! You'll not want to miss our comments on that!
Raffa & The Biz bring you the HOTTEST INTERACTIVE SSC Napoli show on social media, The Raff N Raff RaNt! 
Subscribe today to our YouTube channel The Raff n Raff Rant - YouTube
Be sure to follow us on our platforms:
Twitter: @RaffRant
Facebook: The Raff N Raff Rant
Instagram: @raffrant
Like, subscribe, rate, follow us on any of these podcast platforms; Apple, Google, Spotify, and Podbean!
Enjoy...and #ForzaNapoliSempre